Craft Link  – an Enterprise, Skills & Product Development Program for craft persons.
Book early for this class to ensure your place. The link to the booking form is at the bottom of this page.
Launch Monday 9th. March – Masterclass & Motivation Day
10.30 am – official welcome to participants 
10.35 am – Masterclass for Craft Enterprises – Eddie Shanahan 
12 noon – Masterclass Textiles & Millinery – Leonora Fergusson
1 pm – Lunch break 
2pm – Masterclass Knit & Crochet – Caroline Mitchell 
3 pm – Masterclass Print – Hazel Greene
4 pm – Q & A to a panel comprising all above.
4.30 pm – Ends.
Biogs.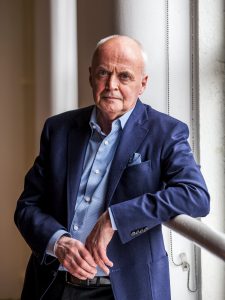 Eddie Shanahan specialises in business and product development for the fashion, craft and retail industries. His clients include designers, retailers, state agencies, blue chip corporations and emerging talent, in both the Irish and international marketplaces.
He is a Board Member of Design & Crafts Council Ireland, Chair of the Council of Irish Fashion Designers, Chair of Showcase Ireland (Ireland's Creative Expo) and a member of the National Design Forum.
He regularly contributes to business and lifestyle programmes on radio and television.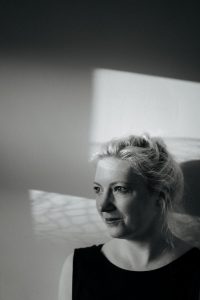 Leonora Ferguson is an award winning milliner who specialises in wire lace headpieces. She studied Textile Design at NCAD and has worked in costume for film and television (including Game of Thrones) before launching her brand in 2011. Alongside her fashion range, she works with attractions such as Madame Tussauds to create hand crafted historically accurate pieces for their wax figures. The influence of her costume work can be seen in her diverse research, close attention to detail, construction techniques and use of unusual materials.
Leonora has been involved in special commissions such as creating animal themed hats for the charity Elephant Family, worn by their guests including Cara Delevingne, to the Animal Ball, London. Leonora's Heads and Tails headpiece was selected for show at the V&A Museum in their Conservation Couture exhibition, 2016, alongside 40 high profile international fashion houses.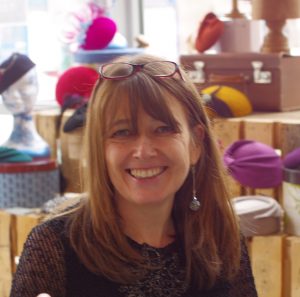 Caroline Mitchell is an accomplished knitwear designer. A graduate 
of the Limerick School of Art and Design, she worked as a designer with several large knitwear companies before starting up her own label. This valuable experience informs her professional approach and is evident in the commercial appeal of her collections.
She designs for women who love colour, texture and attention to detail. Her work is beautifully crafted often featuring hand beaded, crochet and appliqué details. Caroline has developed her distinctive signature using luxurious yarns from France and Italy, often embellishing them with Swarovski crystals and glass beads from India. Her distinctive applique designs take inspiration from ancient Celtic and Egyptian art.
Hazel Greene is a visual artist and textile designer. She was awarded Accessory Designer of the Year in 2015 at the Irish Fashion Innovation Awards. 
Hazel creates a range of scarves in silk that have an elegant drape and richness of colour.  Each of her designs starts with a selection of her original watercolour and silk paintings, these she translates into interesting blends and prints onto luxurious Italian silk. They are hand finished to the highest quality with rolled edges.
Content : As well as the Masterclasses by Leonora Ferguson, Caroline Mitchell and Hazel Greene the launch day program will include some critical advice to craft persons on engaging and converting audiences, capitalising on the value of heritage techniques and inspiration in product development.
The presentations will include details of a special collaboration between contemporary fashion designers and traditional craft makers that has made front page headlines in national media in Ireland over the past 32 years.